We specialize in high quality water jet machine and other high pressure products
Waterjet Cutter machine with 4 or 5 axis dynamic tilt cutting head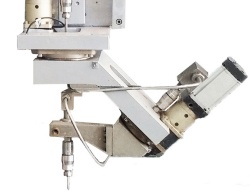 5 axis waterjet


State of art technology 4 or 5 axis waterjet cutting machine can tilt cutting head to achieve sophisticated cutting results that conventional 3 axis water jet cutter can not achieve.

Dynamic tilt head water jet has the following two major advantages:
First to remove taper when it is not desired.
Second, sometimes, slope on the edge is of design.
4 axis waterjet can cut part with the same bevel angele all around this part, e.g. a cone.
5 axis waterjet can cut part with different bevel angeles on the same part, e.g. a tubo fan .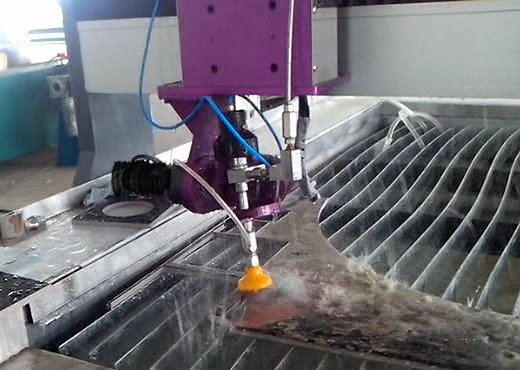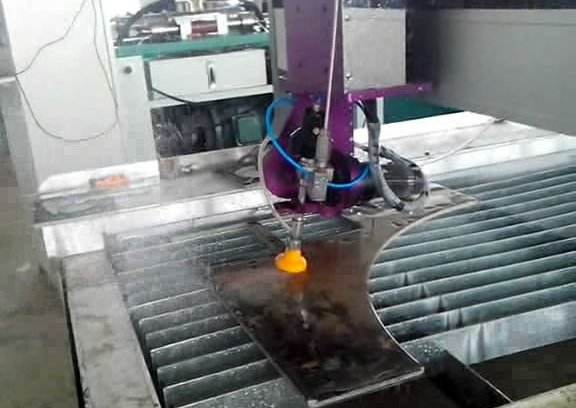 Almost of all conventional cutting methods, such as waterjet, plasma, or laser, possess the characteristic of taper. Most of the time, taper is undesired. 4 or 5 axis cutting machines can solve this problem. We can apply this technology to waterjet cutters and plasma cutters.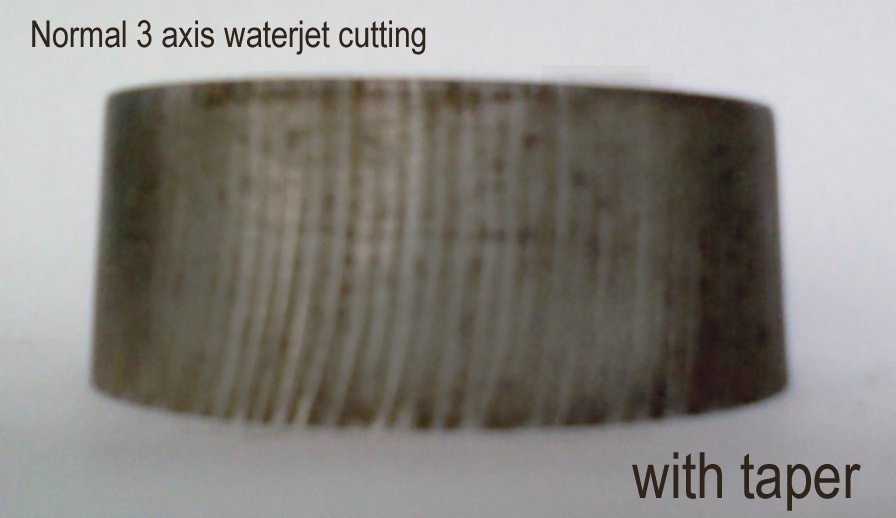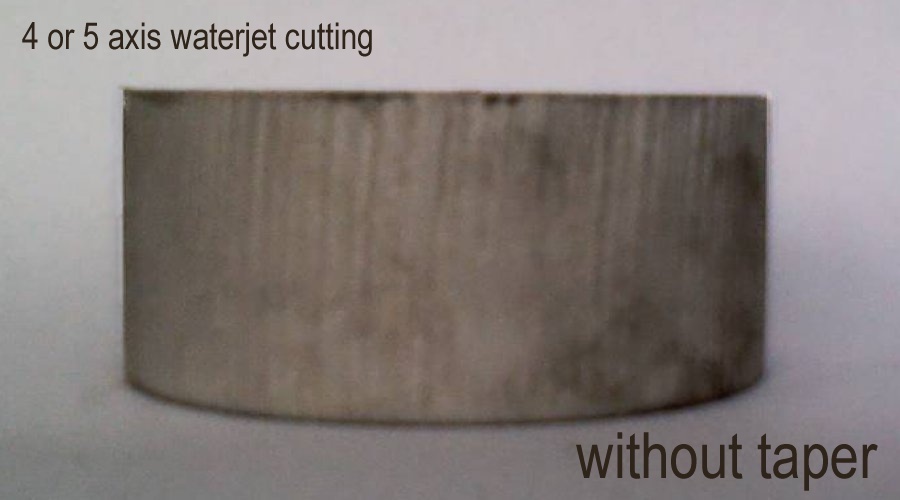 The above pictures show part with taper from conventional waterjet cutting on left and part on the right with no taper as a result of 4 axis waterjet cutting. The two samples above are both carbon steel of about 2" diameter circular part. Waterjet cutting has special edge curve effect due to what is called "jet lag". Water jet is a "floppy tool". While the jet cuts into the material and travels through the thickness of the material, the nozzle tip moves forward and causes a lag between the entering and exiting point of the material. This jet lag marks on the edge of material is more visible when cutting speed is high (in the case of the 3axis cutting sample above ), and less obvious when cutting speed is slow. Plasma cutting, laser cutting, etc, all have similar "lag" effect on the cutting edge.
3D CNC five axis waterjet cutting machine
3D cutting usually requires 5 axis controller and 5 axis cutting head assembly. There are often two types of 5 axis configuration, AB and AC. Most commonly, five axis waterjet is constructed by AC type. It is usually very difficult to program the 3D cutting by a person. It requires special CAM software to translate 3D drawing to machine language, G-code, for the CNC controller to excute.